Reviews
Lovely app to teach touchscreen interaction skills and the notion of cause and effect to those with limited comprehension of these. Lots of useful sensitivity settings and options including switch compatibility

DART App Reviews - University of Edinburgh

This app is brilliant, money well spent, there are loads of similar apps on the market but nothing as good as this. My son is on the Autistic spectrum and he loves it he spends hours on it.

Apple App Store Review

My DS/Autistic son loves this app. it is calming and soothing and keeps him well engaged. I would recommend this app for long waits and crowded places.

Amazon App Store Review

My ten month old son absolutely adores this, as does his three year old brother. I work with children with special needs who also find it entrancing. Works well and a good range of sensory effects.

Amazon App Store Review

Really pleased with this- great auditory and visual feedback. Used with different people and all find something they like. Well worth the money.

Apple App Store Review

This is an excellent app for teaching the concept of cause and effect. The visuals would also serve as a great motivator if trying to get a user to be comfortable with touching the iPad. Over all this is a fun app that can be used in a variety of different ways by a variety of different types of users. We have trialed this app with children who have Down syndrome, Cerebral Palsy, students with Autism Spectrum Disorders and multiple impairments.

It is fabulous to have so many interesting cause & effect activities within the one app. There would be a scene to capture the interest of just about anyone! The music/sounds selected for each scene are great and we love that the scenes react differently to different touch. This could probably take the place of a few cause & effect apps on your iPad.

My almost-5-year-old, blind and autistic, is still trying to figure out how touching the tablet works. This app had him refining his touch and laughing and interacting almost immediately! What a great find!

Google Play Review

My son is ASD and loves this app so much. Already has a favourite setting. Highly recommended, not just for SEN kids.

Google Play Review

My son loves it. Really calms and seems to soothe him. Highly recommended.

Google Play Review

My 18 month old loves it! Great for young ones. Lots of different lights and sounds. Easy to use. :)

Amazon App Store Review

Cause and Effect Sensory Light Box is a multifaceted app to use when teaching cause and effect, targeting, and visual attention. Great for use with low vision kids or as a "chill out " app for the overly stressed kid or adult.....

AppyMall iOS Review
About Light Box
Video shows Apple iPhone version
Cause & Effect Sensory Light Box uses abstract animation and sound to introduce basic touch skills and awareness.
Light Box has become a popular choice for parents of babies and young toddlers but was originally made for teenagers with autism and a range of complex needs. Sounds and graphics are appropriate for any age-group
Light Box naturally encourages exploration of touch gestures through 24 scenes which range from calm & immersive to loud & energetic. Numerous options are provided to customise visuals and simplify controls.
New versions of the app are always free for existing owners.
New in Version 3.0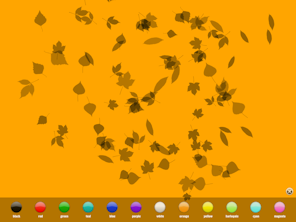 Palette Drawer
A slideout drawer is used to change the palette at any time. The drawer can be locked on the settings page if it becomes a distraction.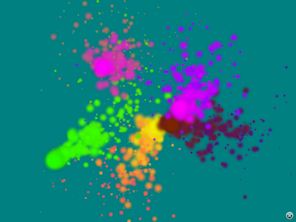 Five Finger Support
Most scenes now support five touches. All the remaining now support two fingers for modelling and cooperative use.
Parent Friendly
No adverts. No in-app purchases.
Switch Interfaces
If your switch is configured to send Taps choose 'Tap Anywhere Switch' in Light Box settings.
If your switch is configured to send keypresses choose 'Keyboard Switch' in Light Box settings.
You're good to go! If you aren't using advanced switch control or are using older versions of iOS and Android, read on....
'Keyboard Switch' will also work if you haven't used the new switch control options in iOS/Android to setup specific actions yet. Historically this is how most switch apps have been used - and is probably the preferred method with less able users. Check the switch interface manual and choose a mode/profile which sends Space, Enter or any alphanumeric character. eg:
Pretorian Simply Works - Mode 7, Mode 8, Mode A or Mode B
Pretorian APPlicator - Any Mode from 0 through to 8
Pretorian Switch2Scan - Use Quick Access Mode
Ablenet Blue 2 - Mode 1, Mode 2 or Mode 3
Cicada Firefly - Mode 5
AirTurn BT 105 - Profile 4
Tapio - RJ Cooper Mode, Tapio Modes, Rich Mode or Keyboard Modes
Use these interfaces with their default settings:

iSwitch
Therapy Box Switchbox
All ILT Switchboxes
RJ Cooper BSI and BSS
Attainment BSS
All Enabling Devices Interfaces
J-Pad Joystick
Spectronics Switchbox
Privacy Statement
Cause and Effect Sensory Light Box does not collect or access personal data. Photo's loaded or new pictures taken with the camera as background images are not saved permanently.
Cause and Effect Sensory Light Box can display the camera videostream as background wallpaper and uses the microphone as an optional sound activated switch, but the app does not actually record audio or video.
Versions
Forthcoming Release Information
Android Version 3.0.5 (Februry 2015) is now available on Google Play - includes support for Android 5.0 and new devices.
Android Version 3.0.5 (February 2015) is now available on the Amazon Android App Store - includes support for Android 5.0 and new devices.
iOS Version 3.0.5 includes 64-bit support and is still being tested for release in early-March 2015.